Had the most amazing trip from Paris to Tokyo. Air France sure are to be commended – the food just kept on coming and it was all FREE! In the end I actually had to skip breakfast, cause there was a self-service type "stand" at the back of the plane, where you could either just ask the super-friendly staff to heat you up some pot noodles etc., or just pick up a sandwich and soft drinks, so by the time they came round I wasn´t hungry anymore. Most importantly, the beer was also free. YAY.
I sat next to a newly wed Japanese couple who had spent their honeymoon in Paris, and even though they were almost 30, we had such a silly giggle together, some people in front of us actually "Shhhh´d" us various times vehemently. They were also huge cat lovers so I of course got all my katten pics out. Ayumi and Kazu, if you read this,it´s YOU I´m talking about, hehe. 😉
Did manage to catch some very unrestful zeds too – I was lucky to have 2 seats together, so I could stretch out a little at least. The entertainment was great too – everybody had their own little screen in front of them, and there was a fantastic choice of movies, series, music and games (like Solitaire, Mahjong etc.) on there, but Ayumi and I were too busy chatting, so apart from some relaxing music when I was sleeping (trying to at least), I didn´t make much use of this feature of the flight.
Going through Customs was quite an experience too. Had to fill in two different forms, one for the passport people and another for declaration purposes, and they took my fingerprints and a photo too, but otherwise it was swift and friendly, and I still had Ayumi and Kazu waiting for me on the other side. We proceeded to take more silly photos of each other (see below) and Ayumi then got me the cheapest train ticket that was available, and she even showed me all the way down to the platform AND bought me an energy drink for the 1 1/2 hr journey into town – such a sweetie! I love it when you meet a genuinely sweet and nice, helpful person, and wonder if all Japanese are like that? Again, if you are reading this Ayumi, DOMO DOMO DOMO ARIGATO!!!
Cute Ayumi and I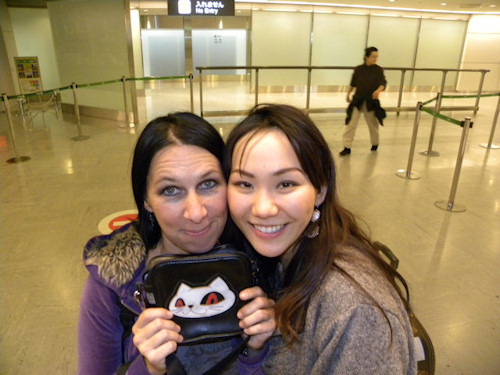 Healthwise, I have done this long journey (24 hrs approx.) without too much pain, stiffness or fatigue. I just hope my body won´t crash tomorrow – something it often does when I have overdone it the day before. But hey, time will tell. (For those of you who don´t know, I suffer from fibromyalgia and rheumatoid arthritis).
Oh, and One more thing…. I´M IN FUCKING TOKYOOOOOOOOOOOOO! *bounces madly* 😀
And this is my ´hood: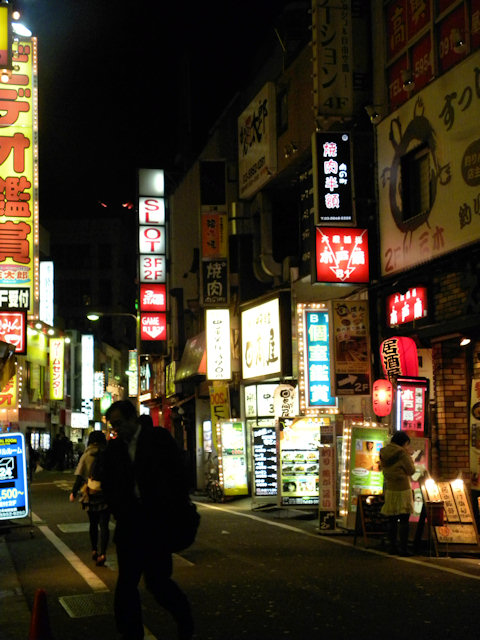 And I off out now checking out the electronics shops! *drools*