After going to bed at 2am and then being wide awake and not able to sleep anymore after 5.30am (jetlag has finally hit me after all), I started the day as early as I felt like, about 9.30 that is, and went to the Tokyo Metropolitan Government Office Building next to Shinjuku. They have an observatory on the 45th Floor which is open and free to the public, and do I ever say no to a freebie?! Got some great views (see pic) from there, even though it was rather misty (smoggy?) at that time of morning (I got there at about 11), and no sightseeing trip would be complete without doing a spot of shopping, of course, and I got a really cute cat clock made from leather that is now dangling from my bag (see pic) from one of the shops at the top of the TMG Building, amongst some other kitschy stuff….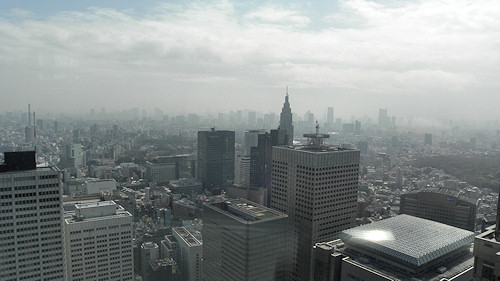 .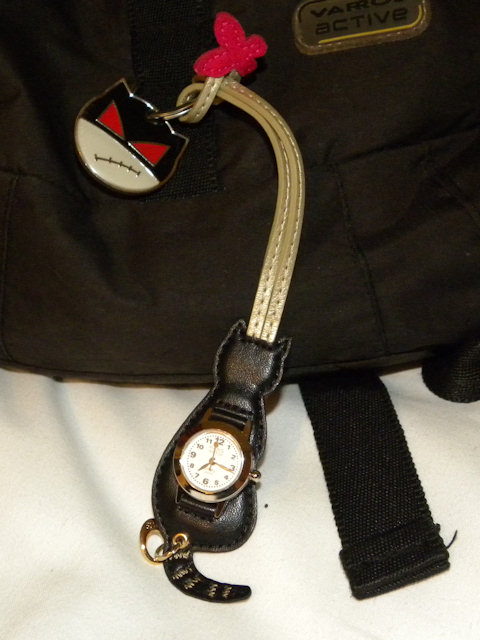 .
After this I was off to SANRIOLAND to meet HELLO KITTY! 😀
I am glad I wasn´t the only adult there to see Hello Kitty – bumped into some Americans who were obviously as mad as I, hehe, and there were also some "older", alternative-type Japanese girls there. The majority was of course screaming brats, but omg Japanese kids are just SOOO cute. I mean they *look* cute (no, I´m not suddenly going to start liking kids!). Anyways, to cut the crap, here´s straight to some pics…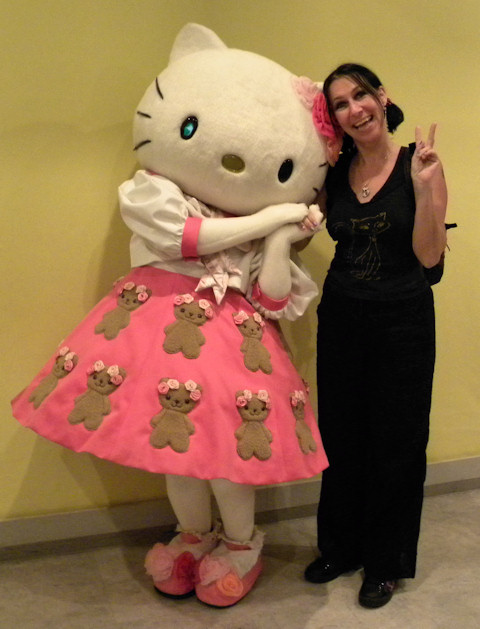 .
Ah, the PVC clad Kuromi. 😉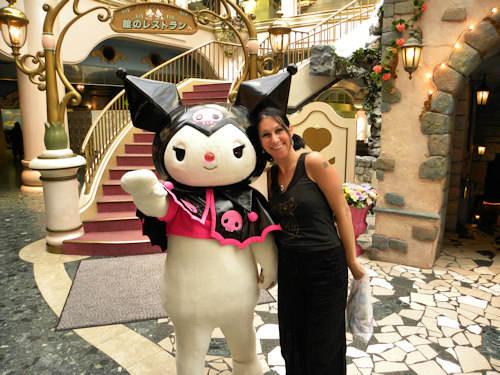 .
I would really like one of these in MY house…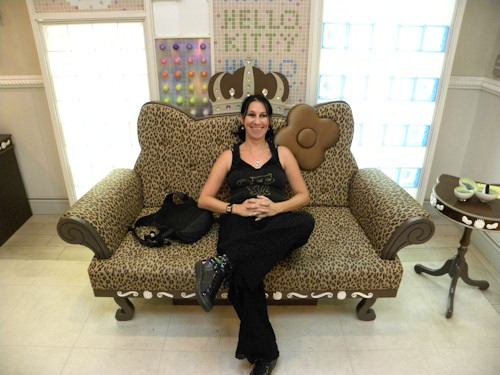 .
My body is really starting to feel the strain of the last few days, and I totally flaked out on the train back from Sanrioland (40 mins). After that, it was really over for me and I was aching all over and I could barely move my legs, but on the way back to the hotel I still managed to spend an hour in the HUGEST electronics store I have ever dreamt of. Of course, I didn´t buy anything (yet! I will have to go back there when I´m more energised), but wow man…. the gadget-shiny-geek-girl in me rejoiced, and then some. Prices here are not cheaper than elsewhere really, but they have SO MUCH CHOICE and the latest stuff too, you wouldn´t believe.
So I got myself some food (see pic) and went back to the hotel. This is the sort of thing I have been eating for the last few days, yummy. When I bought it, I was told that the rice was "feeesh", and I said "yeah ok". On closer inspection back at the hotel I realised what the vendor had meant…. there were tiny little fishies in the rice! LOOOK! OMG! LOL. They were so small (see arrows in pic below) I didn´t taste them really, but I´m sure they give an overall special flavour to the rice. 😉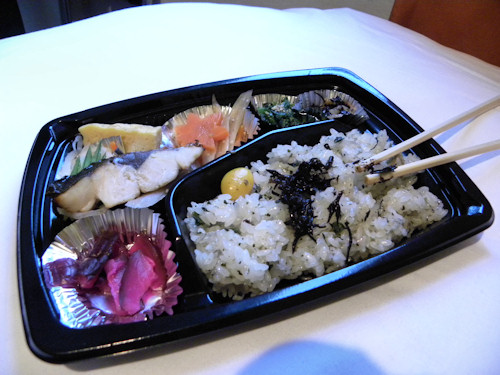 .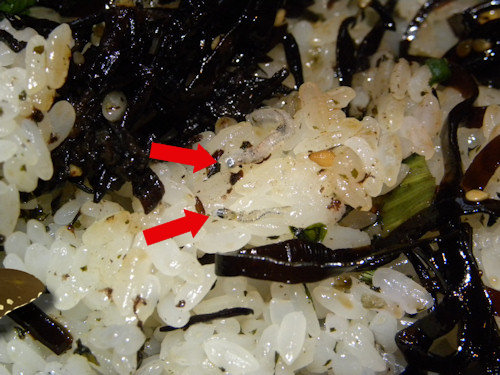 .
I am aiming to do the Tokyo Dome Amusement Park tomorrow (Rollercoasters and rides, yay!), but will have to see how I feel. Right now it´s 19:43 hours and I am staying in for the rest of the evening, can´t move a muscle anymore….
UPDATE: F*ck it. I´m off out again, pain or not, I just can´t *shut down*, argh! 😉