Spent a late morning in the hotel, and then went to meet Ayumi, the Japanese girl who lives here in Tokyo, whom I met (+ husband Kazu) on the flight over from Paris last week, for a sushi lunch. It was very yummy, and we had a really good laugh trying to teach each other swear words in our respective languages. I won´t repeat the words we covered, but serious girly giggles ensued. The picture below was taken at the beginning of our lunch, but all seriousness then quickly all fell apart. 😉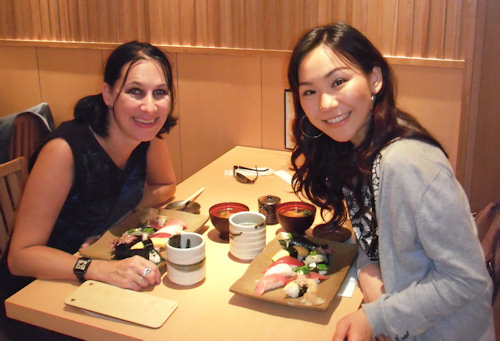 .
I had to go back to the hotel to get my protective mask before going on the Metro, and while we were there I showed Ayumi all the cat stuff I had bought here in Tokyo, and as I produced more and more things, more giggles ensued.  This pic doesn´t show *all* the cat stuff I bought, but I think it´s about 90% of it.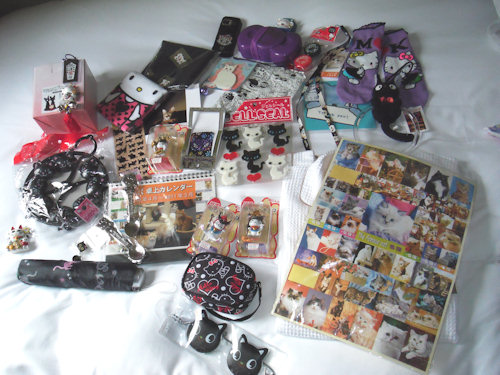 .
I was then taken by my tour guide Ayumi to Asakusa, which is not very far from Ikebukuro where I am staying, and we were going to visit the Sensoji Temple, the oldest and most famous temple in Tokyo. Sadly, the main temple hall is being renovated at the moment, so we didn´t get to see it, but the long street leading up to it was foreign tourists´ shopping paradise, and I was particularly drooling over all the cat stuff (yes, more cat stuff!) in the shops.  Ayumi almost had to get me a bucket for the drool when I came across THIS shop!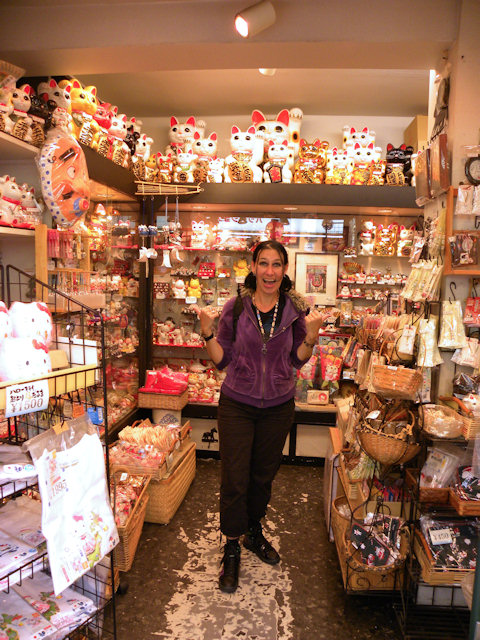 Yes! EVERYTHING in that shop was Manekineko or other cat stuff. 😀 I didn´t buy anything though cause I already have enough Manekineko stuff, but what I really wanted and couldn´t find was a hand fan with Manekineko…. oh well, I told Ayumi if she ever sees one, to send it to me in the post.
Now from madness to a little bit of Zen: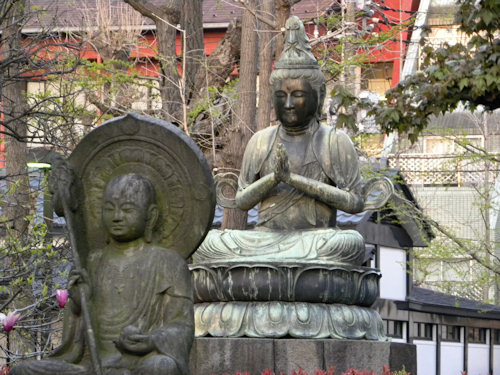 .


.
And now immediately back to madness with Ayumi with a temple sticking out of her head: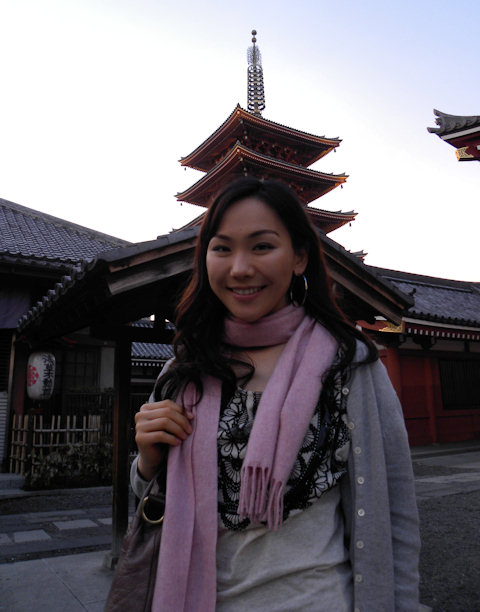 .
And now both of us with a temple sticking out of our heads! 😉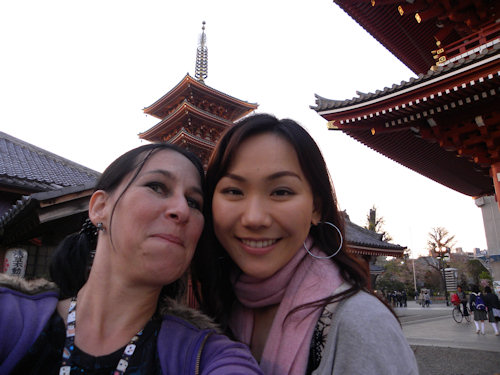 .
The street leading up to Sensoji Temple…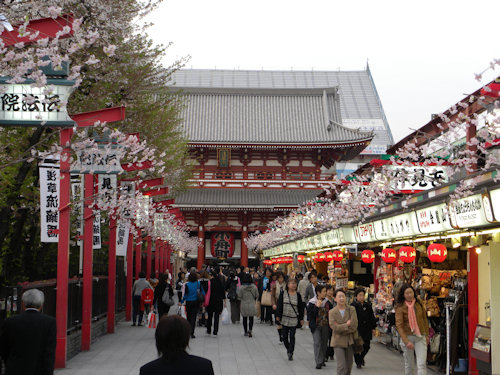 .
Pretty (but fake!) cherry blossoms and lanterns…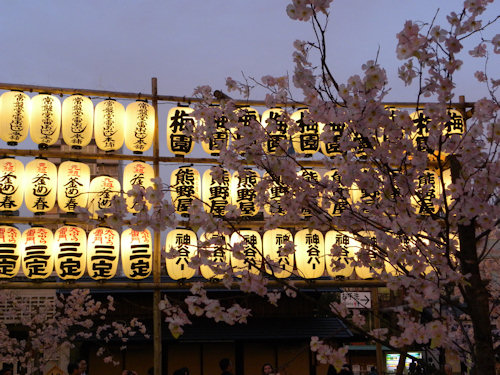 .
And then we saw some REAL geishas walking down the street – Ayumi told me that it´s very rare to see Geishas during the day, they normally only come out late at night ("like vampires then", I said).  Ayumi kindly asked for me in Japanese if I could take a photo…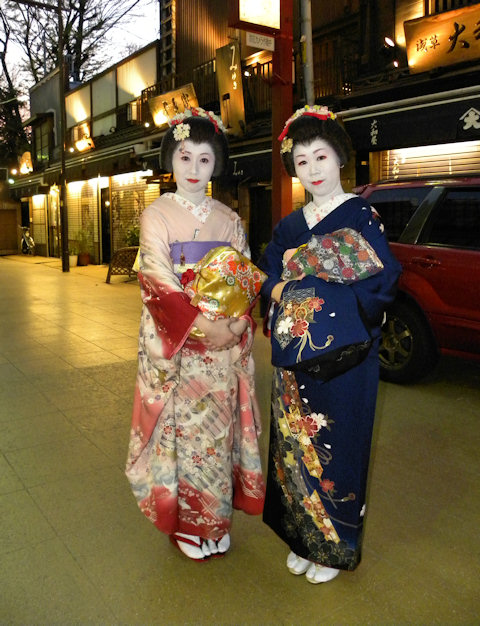 .
.
Ayumi then went back home and I went on on my own southbound to see the gorgeous "Rainbow Bridge".  Of course, I wanted to see this bridge because of its name, and say a little "prayer" for all the departed animals out there, but also because the bridge is nicely lit up at night with the skyline of Tokyo behind it.  The photos in small size here do NOT do it justice, so please click on them to see the full, large size photos (800x450px), they are absolutely beautiful…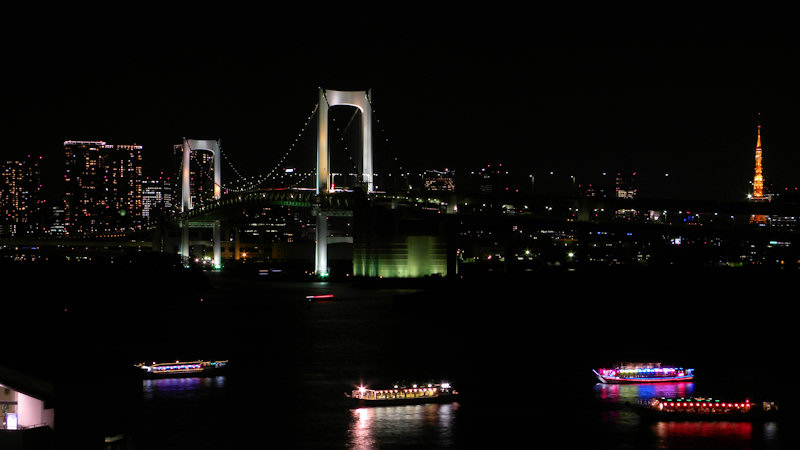 .


.
It is my last day in Tokyo tomorrow and I am leaving for the airport at 18:00 hrs.  I had a FANTASTIC holiday, and I am grateful that my health held up well enough so I was able to do as much as I did over the last week, and I really want to come back to Tokyo again some time in the future….
I will probably get the chance to do my last blog entry in the airport tomorrow, recording my last day, but will have to see how it goes.  I say "Sayonara" to you all for now and thanks for your comments and for following my shenanighans this last week!